South Australian Living Artist Festival (SALA) 2012
About: This exhibition connects us to the small scale quantised world through the intricate patterns molecules generate when interacting with light. We can have a "conversation" with a molecule by "questioning" it with laser light and "listening" to its answer given in terms of light energy. Each molecule will create its own unique pattern after interacting with light. This tells a story of that molecule's quantum energy and can be interpreted to tell us the molecule's shape as it tumbles and vibrates. The patterns have a symmetric and harmonious quality pleasing to our innate sense of balance and order.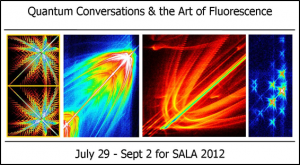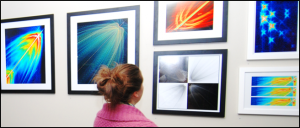 Background: The artworks displayed by the Quantum Collective are generated by the molecules studied in the Flinders University Laser Spectroscopy and Molecular Dynamics Laboratory. The collective, made up of Dr Ula Alexander, Dr Jason Gascooke and Prof Warren Lawrance, designed and built the apparatus to generate these images. The motivation for developing the apparatus was to gain detailed insight into the energy and motion of molecules. Results from the apparatus are published in high quality scientific journals. The idea of presenting this work in the art arena stems from a journal reviewer's comment. SALA gives the opportunity for us to share these intricately patterned images with a wider audience.
Feedback from the general public:
"Amazing images" , "The pictures are so detailed" , "We need more science-art"
Exhibition space: The Artisan Cafe, Main Rd, Blackwood SA
Dates: Sun July 29 – Sun Sept 2 2012 |   Opening Night: Wed August 1, 6pm-7.30pm
Media: SALA 2012 Artist Portfolio   |   Flinders University news
Supporting information:
Download a pdf showing the link between laboratory experiments and the art exhibition –  Overview of lab to art pdf
Download the booklet supporting the SALA 2012 exhibition with descriptions of each artwork and a summary of some of the science, including quantum physics, behind the images – Quantum Conversations Booklet pdf
© 2015